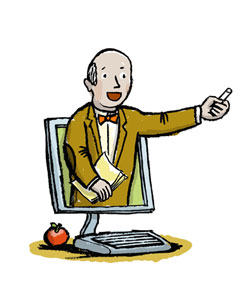 Undoubtedly, Information and Communication Technology (ICT) helps us teachers to improve our classes, our dynamics and our teaching process, because it offers new ways to communicate, interact and achieve our educational purposes. According to Statements of Learning for Information and Communication Technologies (2008), using ICT as a tool for learning enables students to:
1. efficiently and effectively access digital information to assist with investigating issues, solving problems and decision making
2. produce creative solutions to support learning and develop new understandings in areas of learning
3. communicate, share and work collaboratively in local and global environments
4. understand the legal, ethical and health and safety implications of using ICT and their responsibilities as users and developers
5. develop new thinking and learning skills to support learning.
As one can see, it definitely provides us updated tools and new techniques to develop better ways to get to our students' interests and to fulfill their expectations. In the following video, you will listen to different experts' opinions about what ICT in education is all about.
Obviously, when one refers to ICT in education, it also encompasses ELT because nowadays languages are a major subject in the learning process all over the world because of the spread of technology.
As Doug Brown said in the video, ICT in the 21st century is recognizing that learning without technology is just not learning. However, it is also necessary to acknowledge that technology ha not reached all levels of society, especially in developing countries in where efforts have been made but are not enough to overcome the tech barriers.
Technology is always improving and it is surprising how fast it updates. In Venezuela, it is difficult to keep up with this accelerated flow of information and updates of new technology.
The Central University of Venezuela has made huge progress on the installation and digitalization of the different faculties. All Schools now have at least a computer lab available. However, the financial difficulties do not allow authorities to buy better equipments or tools and most of them are old or damaged to a point in which supplies to repair them are very difficult to find.
At the School of Social Communication, new equipments were bought this year, but the access to them is limited to some subjects. My subject, English, has not been included yet in the program of digital classes. Nevertheless, I have had the opportunity to ask for some tasks to be done on blogs, such as university newspaper for example. The experience was really satisfying and rewarding, even if I could not participate in the process.
As teachers, it is imperative that we try to incorporate these tools in our classes, even though we do not have full access to them.
At this point it is important to highlight the efforts made by organizations as Avealmec in Venezuela, which tries to promote the use of new technologies into the classroom.
Reference:
http://www.det.wa.edu.au/education/cmis/eval/curriculum/ict/index.htm